The services of our Bed and Breakfast
We provide a range of services that will enhance your stay in our hotel and make your holiday even easier and more relaxing. From our Sardinian tavern for breakfast, to our transfer services to the local airports and the beaches, from our partnership with local restaurants, to babysitting services, we provide our guests with many useful services.
Sardinian country pub, breakfast room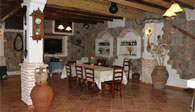 Awaken to complete relaxation by enjoying breakfast in our unique Sardinian country pub Start your day with a hearty breakfast of delicious and authentic home-made cakes and pastries, accompanied by a wide selection of fresh fruit.
Round trip transfer service to ports and airports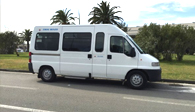 Our Bed and Breakfast offers our guests transfer services to ports and airports in collaboration with
www.ogliastratransfer.it
. Did you arrive in Sardinia by plane or without your car and do not want to make the journey to reach Ogliastra? Sit back and enjoy the scenery. The transfer service to and from the airports and ports of the island allows you to reach your destination faster.
Agreements with Restaurants and Gastronomies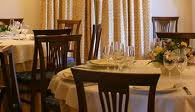 Our Bed and Breakfast offers great deals on restaurants, pizzerias and diners in Bari Sardo. Do you want to taste the local cuisine and authentic pizzas? Our hotel has agreements with several restaurants in the country to offer you delicious lunches or dinners at really attractive rates. If you want something less challenging you can rely on a take-away food.
Bus service to the beaches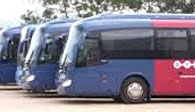 Guests of our Bed and Breakfast can also take a convenient bus to the beaches. Just 50 meters from our facility there is a bus stop, which connects the town to the village of Torre di Barì.
Ticket price
: one way ticket 1,20 € , round-trip ticket 2,00 €.
Departure from the country to Torre di Barì at: 7.55; 8.35; 13.40; 19,45.
Return to the country from Torre di Barì at: 8.07; 8.50; 13.50; 20.00
More services
We also offer additional services such as; babysitting services, laundry and ironing services, and beauty salon / spa. Request more info on arrival to learn about conditions and fees.
No offers available
Active holiday
Hiking in
the mountains
Excursions
on the coast
History
and traditions
Photo gallery